I'd love to send you my articles, essays, and posts via email so that you don't miss anything. If you find them helpful, let me invite you to subscribe to Rest for the Weary. Thanks for your support!
---
Summer Camp Blues
My first case of homesickness struck in the Missouri foothills. I was a ten-year-old at Camp Soaring Hawk as one of the few campers staying for both multi-week summer sessions. Although I had never been away from home before, things were okay while camp activities were taking place all day with new friends.
Then they left at the break between terms.
I began to feel sick. Not virus sick with a fever but heart sick with a hard to pinpoint longing. It was an empty feeling. Akin to loneliness. It strangely felt like grieving.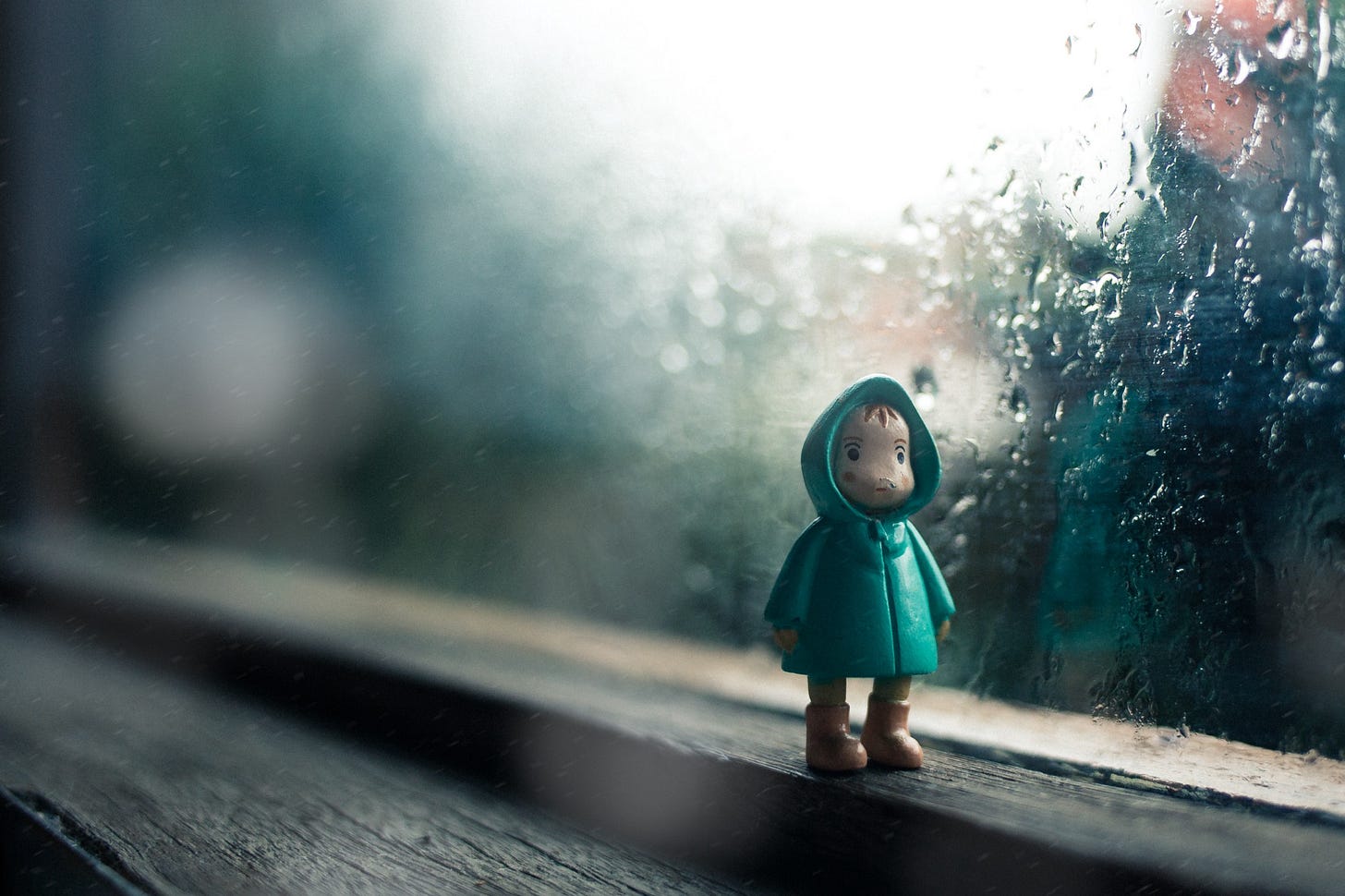 Camp was quiet and still. Too quiet and too still. Not the way it was supposed to be.
It was supposed to be filled with friends, activities, songs, and s'mores. In the absence of what usually occupied my time and mind, I began grieving not only the loss of the camp environment but the temporary loss of my mother's presence. I missed her food. Her hugs. Her voice. But most of all, just her being there.
This was not the way it is supposed to be. I wasn't supposed to be away from home at ten, feeling alone, disconnected, and isolated.
It has been forty years since my summer in those foothills at Camp Soaring Hawk. I've long left home and have raised my own family. But sometimes I still feel homesick. Not a longing for the safety and security of childhood, but something more akin to a low-grade fever in the soul. An ache for a home I've never seen but for which I long nonetheless.
Because things are not the way they are supposed to be.
Not as It is Supposed to Be
My son, Schaeffer, was supposed to have a little brother. But as I held Thomas's tiny, lifeless body in my hands in January of 2002, I knew that dream had died with our second son. While the Lord gave us a fourth child, at the time of Thomas' death, I wept so hard and for so long that my eyes ran out of tears. I never thought I'd laugh again or enjoy any good thing in this life.
Children are not supposed to die. No one is supposed to die for that matter.

Humans are not supposed to get cancer or be faced with deadly pandemics.

Parents are not supposed to get divorced.

We are not supposed to go to bed at night setting an alarm system, fearing that an intruder could break in to steal or harm.

The weather isn't supposed to rage against us in the form of tornadoes, hurricanes, floods, blizzards, and drought.

Girls are not supposed to be kidnapped and enslaved.

Mosquitoes are not supposed to ruin summer evenings on the porch.

Nations are not supposed to war.

Cars are not supposed to break down.

Families are not supposed to be homeless.

We are not supposed to feel alone, afraid, and isolated.

Extracting wisdom teeth isn't supposed to cost as much as buying a used car.
We could go on and on and on. From the weather to sickness and crime and all kinds of other stressors, this world is not the way it is supposed to be.
A Broken World
The brokenness of our world is attributed to what we call "the fall," that moment in history when the first humans defied the creator, opening the proverbial Pandora's Box, where evil escaped, corrupting and infecting and ruining what the Lord has just declared to be good. Adam and Eve would have to leave the garden, lest they eat of the tree of life and live forever in their "not supposed to be like this" condition. I wonder how powerfully homesickness affected them?
Can you imagine their grief? Losing paradise? To possess something and then lose it must be even more crushing to the spirit than living in the midst of the loss, never having known what it is to be home. Truly home.
What if the human experience of grief is a form of spiritual homesickness? Just as grief is the emotional response to a shattered dream, homesickness is the parallel longing for things to be made right. For the dream to live. For paradise to be restored.
Maybe grief is a longing to be home.
It is to this longing that the Bible speaks in such a practical way, with a promise that is custom fit for our spiritual homesickness because this world is not the way it was created to be. It also is not the way that it will be. The apostle Paul speaks to this in Romans 8:18–25,
18 I consider that our present sufferings are not worth comparing with the glory that will be revealed in us. 19 For the creation waits in eager expectation for the children of God to be revealed. 20 For the creation was subjected to frustration, not by its own choice, but by the will of the one who subjected it, in hope 21 that the creation itself will be liberated from its bondage to decay and brought into the freedom and glory of the children of God. 22 We know that the whole creation has been groaning as in the pains of childbirth right up to the present time. 23 Not only so, but we ourselves, who have the first-fruits of the Spirit, groan inwardly as we wait eagerly for our adoption to sonship, the redemption of our bodies. 24 For in this hope we were saved. But hope that is seen is no hope at all. Who hopes for what they already have? 25 But if we hope for what we do not yet have, we wait for it patiently.
If we were to divide history into four sections, we would begin with creation, the earliest epoch. This lasted until the rebellion (i.e., the fall) in the garden (see Genesis 2–3), which led to the corruption of creation, and is the context in which we find ourselves today. The third phase of history runs concurrently with corruption. This phase is redemption, where through the ministry of Jesus culminating in his crucifixion and resurrection, God rescues us from the eternal consequences of our rebellion and promises to make all things new in what is called the consummation, or fourth epoch of history, which actually is not part of human history, but transcends it as eternity future.
In this final epoch, God establishes what is called the "new heavens and the new earth." Paradise is restored and we are home forever. Finally.
This glorious restoration and reunion is described in Revelation 21:1–5,
Then I saw "a new heaven and a new earth," for the first heaven and the first earth had passed away, and there was no longer any sea. 2 I saw the Holy City, the new Jerusalem, coming down out of heaven from God, prepared as a bride beautifully dressed for her husband. 3 And I heard a loud voice from the throne saying, "Look! God's dwelling place is now among the people, and he will dwell with them. They will be his people, and God himself will be with them and be their God. 4 'He will wipe every tear from their eyes. There will be no more death' or mourning or crying or pain, for the old order of things has passed away." 5 He who was seated on the throne said, "I am making everything new!" Then he said, "Write this down, for these words are trustworthy and true."
The part of the story that is the most challenging is living in view of redemption while continuing to experience the thorns and thistles of corruption. Stress. Death. Taxes.
This is the root of our homesickness. It is a longing in the soul for the way things are meant to be.
Theologians call this in-between state "the already but not yet." The promises of God have already been made and fulfilled in the person of Jesus. The kingdom of God is here. But the fullest manifestation of that kingdom, where the consummation of blessing is complete and permanent is still to come.
What are the implications for us as we live between the two worlds of the now and then? What can we do in the waiting?
1. Cultivate a holy discontent with the way things are.
​ It is not "all good," as some are known to say. Malcolm Muggeridge once quipped, "The only ultimate disaster that can befall us, I have come to realize, is to feel ourselves to be at home here on earth." C.S. Lewis compared being satisfied with the world the way it is to a child who plays in the slums making mudpies, not aware that a vacation at the beach is offered to any who will get on the bus.
2. Do not minimize your grief.
Like a physical nerve ending alerts us to danger by signaling pain, our emotional nerve endings alert us by signaling a deep desire to be home, where there are no more tears, crying, or pain. The more deeply we feel the pain, the greater our longing. The greater our longing, the stronger our faith and the potential for not only the full realization of joy, but also the temporal tastes we get to experience in this life.
3. Resist the urge to numb the pain.
I know. This is hard. When I had stitches to re-attach the end of my finger when nearly severing it with an electric hedge trimmer, I demanded a numbing injection. And yes, there are times to take a sedative. But chronic numbing with alcohol, prescription meds, shopping, pornography, YouTube clips, and whatever is your addiction of choice will prevent you from feeling your hearts deepest longing and receiving the forward-looking hope that is able to sustain you in the present. While grief feels like death, it can be the birth canal of new life. Passing through is filled with suffocating pressure, but the glory is worth the grief.
The Glory is Worth the Grief
That is Paul's point in Romans 8. The glory is worth the grief. We could say that the grief we suffer now intensifies the glory we will experience then. Things are not as they are supposed to be. But how they are is not how they will be for those who find their hope in Jesus, the one who entered into his creation to take on our corruption, secure redemption and reign from heaven until the restoration of paradise.
Of all the ills of the world that were contained in Pandora's mythical box, one item wasn't able to escape by the time the lid was replaced. Do you know what was trapped?
Hope.
Even their mythology, the ancient Greeks revealed the same understanding of this world in its "not the way it is supposed to be-ness" and the same longing that every human feels for things to be made right. We have been created in God's image. Our original zip code was paradise, after all.
You don't have to be a Christian to feel homesick in your soul. We long for the hope of home.
There is Hope When Life Hurts
It is the hope revealed in the gospel, where, through the cross of Jesus, God releases hope into the world — a hope that touches every person and place affected by the brokenness of the fall. The familiar Christmas hymn puts it like this:
No more let sins and sorrows grow
Nor thorns infest the ground.
He comes to make His blessings flow
Far as the curse is found.
As far as the curse is found. There is no square inch on earth that is exempt from the blessing of hope that has been secured for grieving, homesick sinners.
When our ears hear this news, we are being called home. Sometimes the road home is filled with singing and celebration. Sometimes the road is wet with tears.
But one way or another, for those in Christ, we finally will be home.